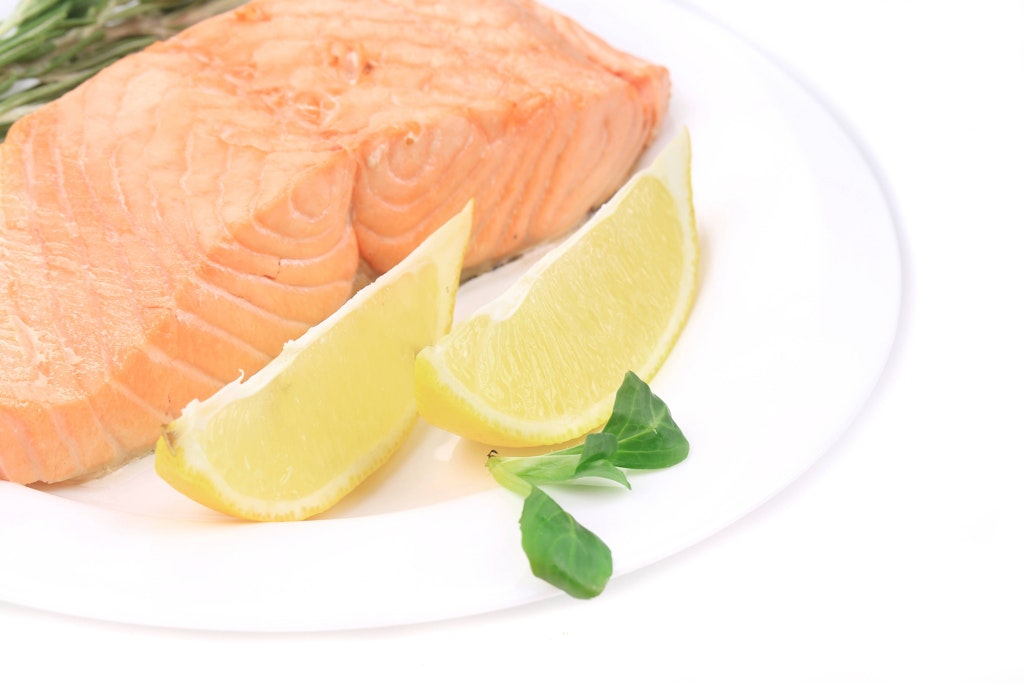 Fish cakes have a long tradition in Asia and Scandinavia. There are certainly some creations that take some getting used to for our taste buds. But this salmon pie is completely different. The interaction of dough, salmon and onion is a real treat.
This recipe has convinced many people who claim they don't like fish anymore. Check it out. It's worth it.
Also Read: With Pesto and Bacon: The World's Best Burger – The Tomato Trick Makes This Recipe Special! >>
Scandinavian salmon pie – here is the recipe
You need it
500 grams of skinless salmon fillet, 250 grams of cold butter, 400 grams of flour, salt, 1 egg, 1 teaspoon of white wine vinegar, 2 red onions, 1 clove of garlic, 4 onions, 2 tablespoons of olive oil, pepper, 1 tea spoon of lemon peel from organic lemon, 2 tablespoons of chopped parsley, 200 grams of cream, 2 eggs, 1 tablespoon of cornstarch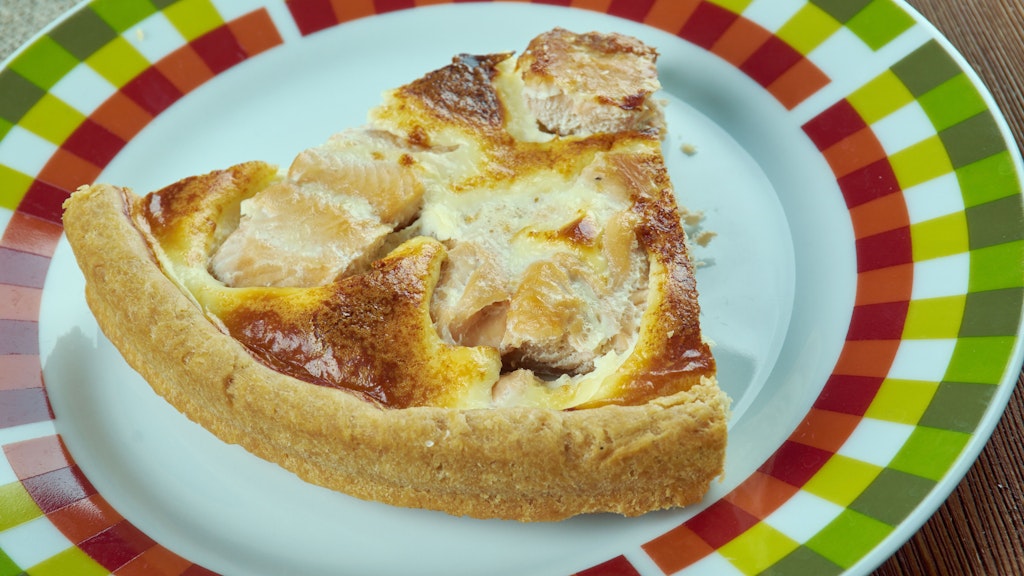 This is how it is done
You can use fresh salmon for the pie, but of course frozen products too. But first, you need to let it thaw in the refrigerator for 6-8 hours.
Cut the butter into small cubes and combine with flour, salt, eggs, vinegar and 5-6 tablespoons of ice water. It should be a smooth dough that you divide into 2 parts. Wrap both in cling film and leave in the fridge for about an hour.
Preheat the oven to 220 degrees F/F.
Wash the salmon, dry it and cut it into large cubes. Peel the onion and garlic and chop both into fine cubes. Wash the onions and cut them into rings. They can be a little rougher.
Then heat the olive oil in a pan and sweat the onion and garlic in it for 2 minutes. Add the salmon cubes and sauté for two to three minutes while stirring. Season with salt, pepper, lemon zest and parsley. Then fry for another two minutes. The pieces of salmon should not fall apart.
Then pour the contents of the pot into a bowl. Add the whipped cream, 1 egg, cornmeal and onion. Season with salt and pepper again and let cool slightly.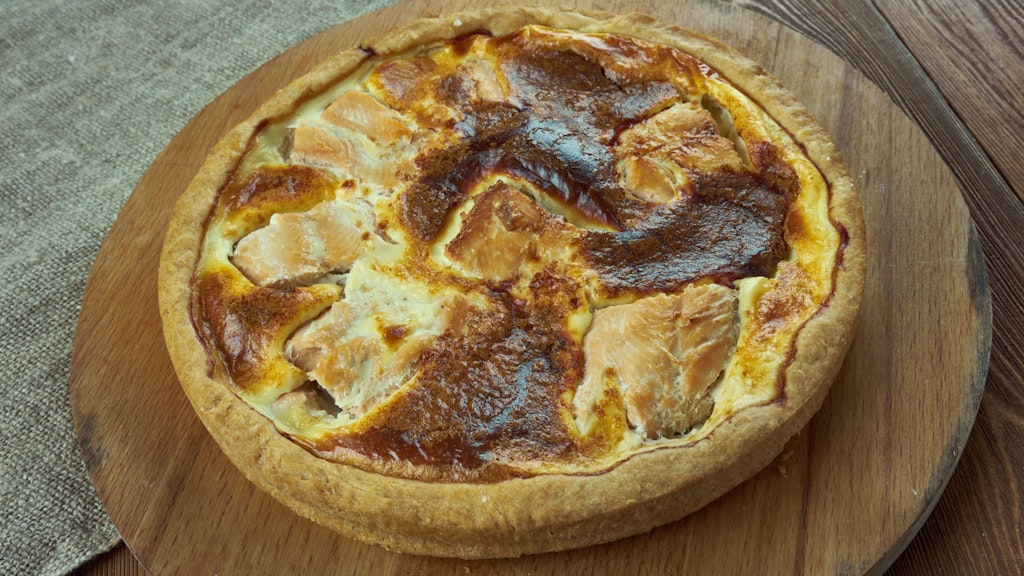 Now spread both parts of the dough on a floured surface. Use one of these to line a 24cm diameter pie pan. You can also use a greased springform pan. Do not forget to pierce the dough with a fork several times. Then fill and smooth the cooled salmon filling.
Beat the remaining egg and brush the edges of the pastry in the pie dish.
Cut out some figures from the second sheet of dough. Whether it's hearts or stars or circles – it's up to you. Put it aside.
Now place the dough sheet as a lid and close the edges tightly. Then grease one side of your dough figures with egg and spread them on the lid. This way you give your cake your personal touch.
Now the cake goes to the oven. Reduce the temperature to 200 degrees and bake the cake for 35-40 minutes.
Then you can serve the pie hot or cold. A colorful salad goes perfectly with it.
Bon Appetit!