Halloween buffet
7 easy and quick scary finger food recipes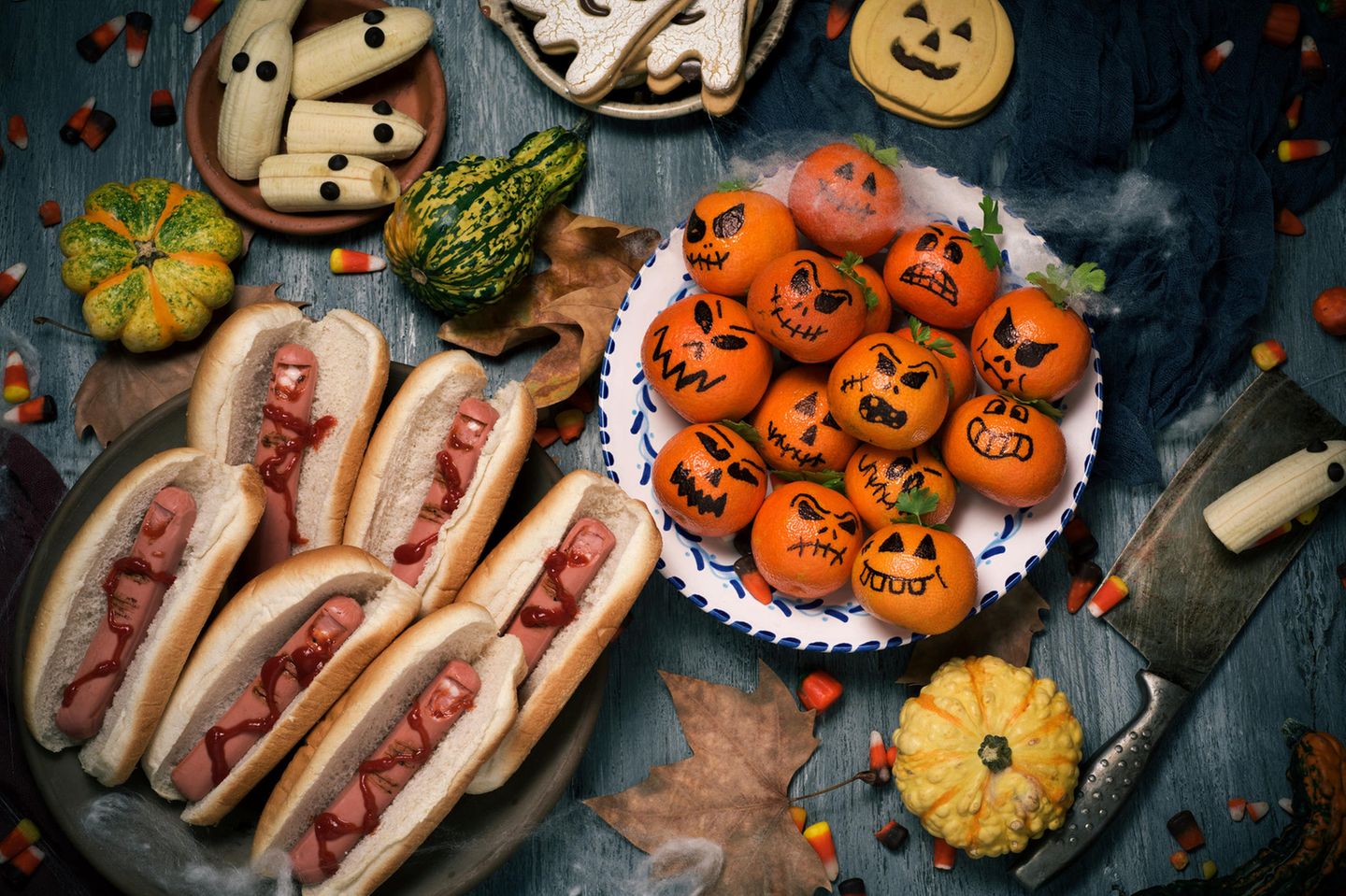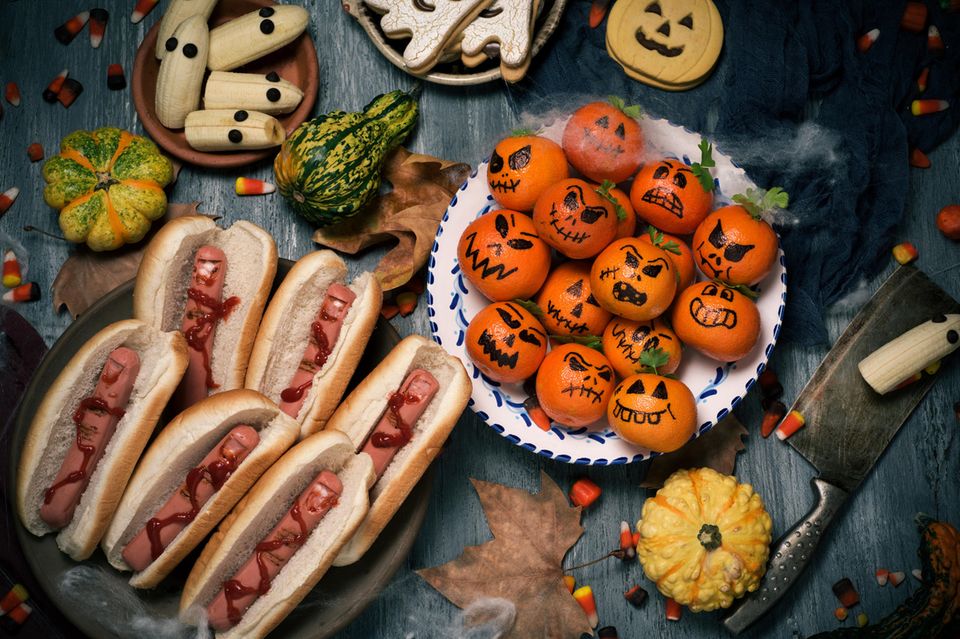 Sausage mummies, bloody hot dog fingers and ghost bananas: our recipe ideas are a hit at every Halloween buffet. Plus, it's super easy to make and perfect for kids.
Planning a party and looking for inspiration for your Halloween buffet? With these seven quick recipe ideas, you'll be conjuring up scary finger foods that kids and adults alike will enjoy in no time!
Delicious sausage mummies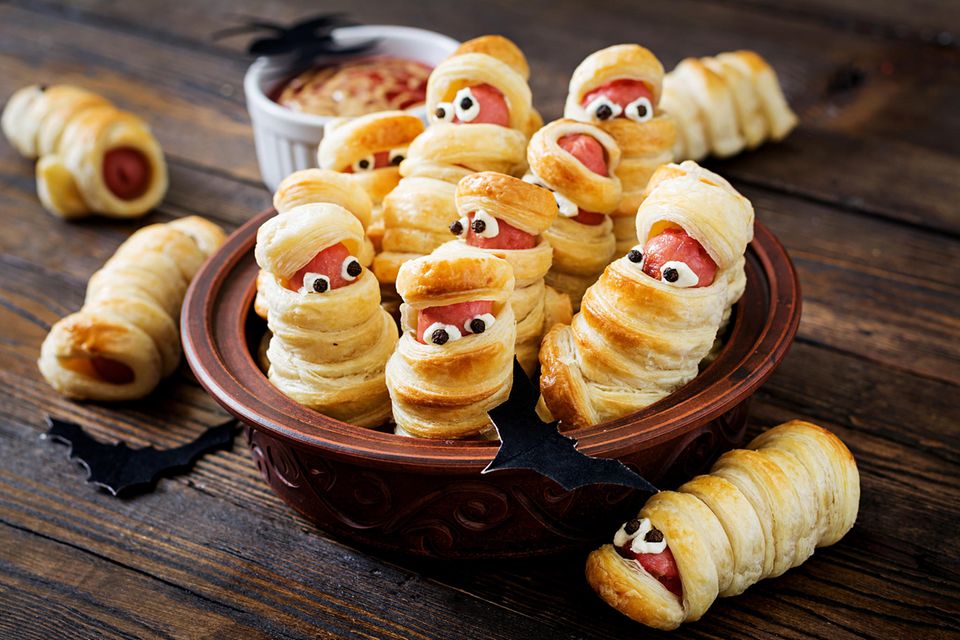 A true classic among Halloween recipes: Sausage in juicy dough! Small snack mummies are quick to prepare and are very popular with children. This is how it works:
Roll out the juicy dough and carefully cut it into thin strips.
Wrap the juicy dough strips around the sausages, leaving a little gap in the top third: This is where the eyes go.
For the eyes: add a dot of ketchup to two drops of mustard or just use edible sugar eyes.
And then into the oven: sausage mummies 200 degrees on a baking sheet approx. 15 minutes to cook
Chocolate Banana Ghosts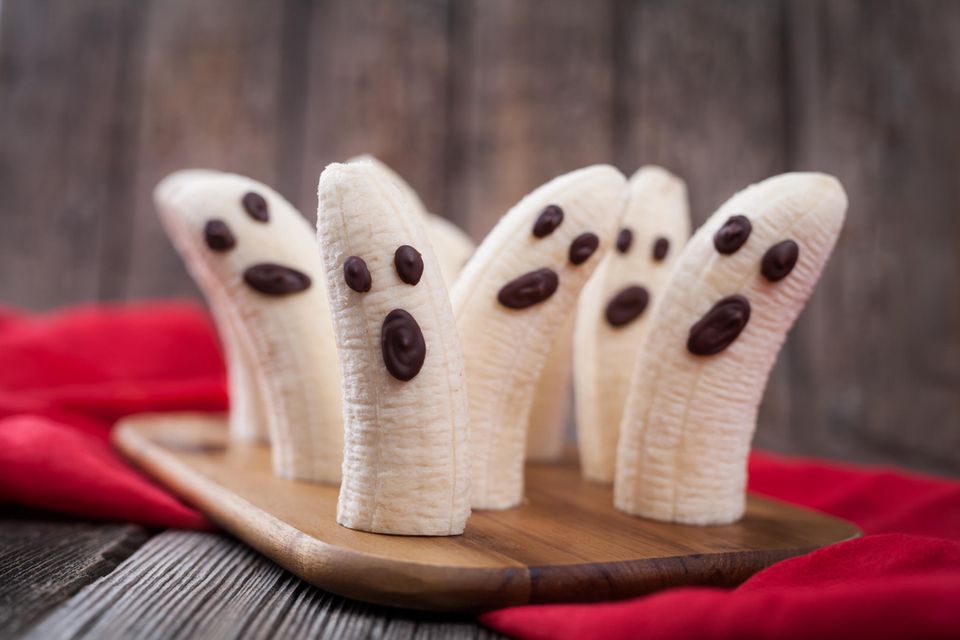 It couldn't be easier: These little banana ghosts are super easy to make and healthy too! Perfect for a Halloween party with kids. Completed in just two quick steps:
Cut the bananas in half and decorate with melted couverture – and the horror begins!
If you prefer to do it without chocolate: ghost mouths and eyes can also be included raisins model.
Bloody hot dog fingers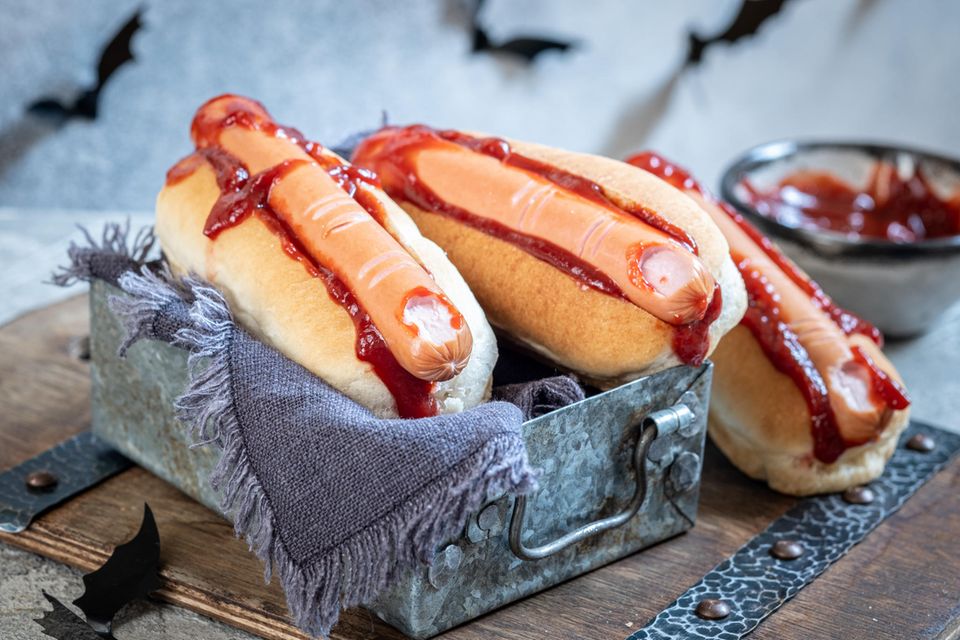 If your Halloween guests are a little hungrier, creepy hot dog fingers are ideal – with extra blood of course, uh ketchup! How to prepare the snack:
Heat the sausages and toast the hot dog buns briefly (preferably in the oven)
Then, with a sharp knife, cut the sausage "claw" and joint folds.
Spread ketchup on the bread, top with sausage and another portion of ketchup – voilà!
Of course, you can add fried onions and mustard to the spooky hot dog later if you want.
Poisonous Green Worm Jelly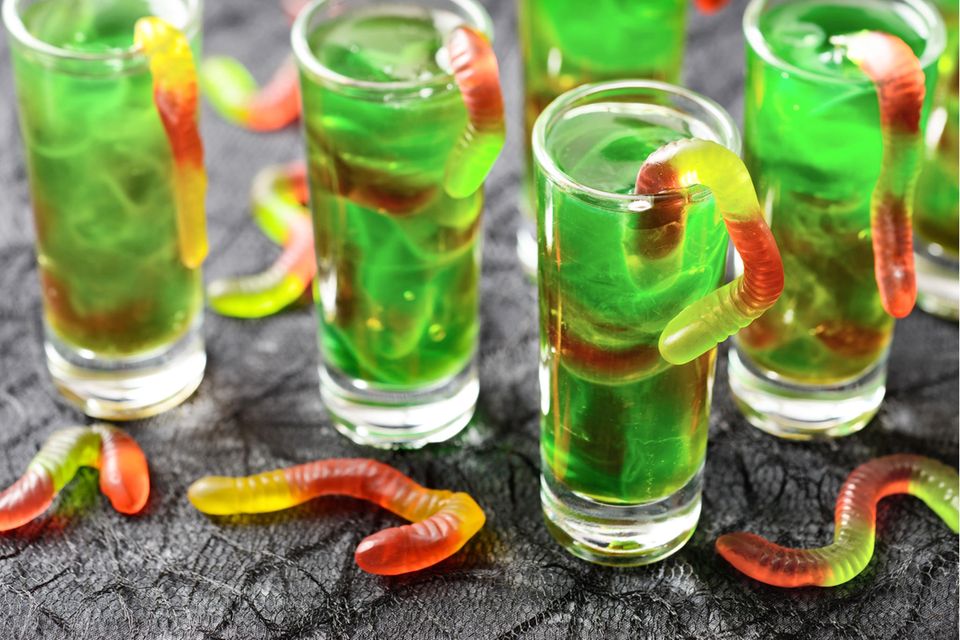 Gooey-sweet and wonderfully creepy: green jelly served in tiny cups with wine gum worms. A great eye-catcher on your Halloween buffet! Just make the jello according to the recipe on the package and mix it with the gummy worms.
To refresh in between: 5 punch recipes

whom Drinking at a Halloween party The punch bowl is perfect for kids. Of course, fruity soft drinks are also delicious for adults! Here are five sugar-free recipes:
Terrible Pumpkin Head Tangerines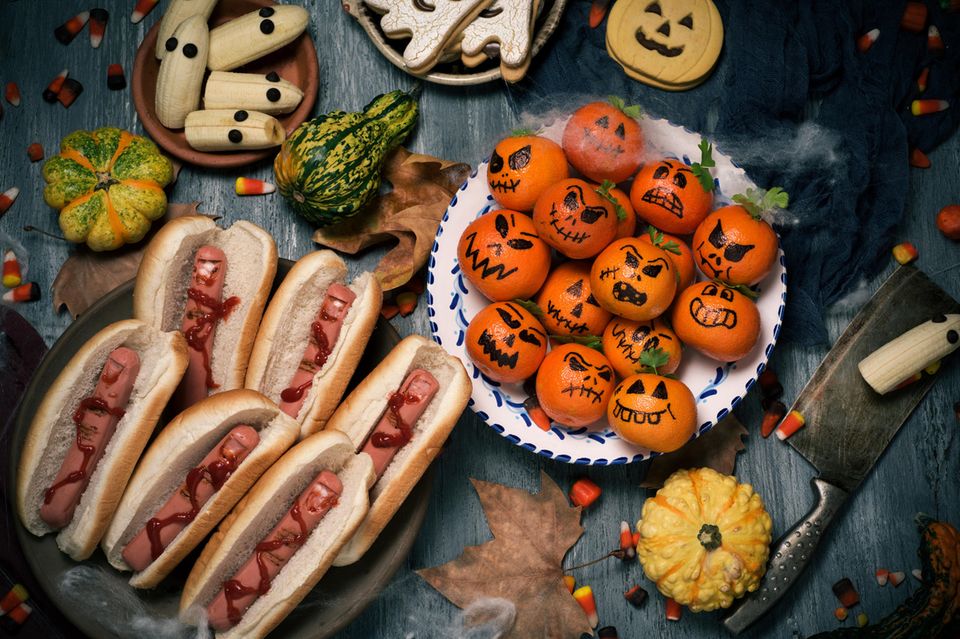 Small effort, big effect? Sounds like a perfect recipe idea for our Halloween buffet! Scary tangerines are pumpkins healthy snack at any Halloween party and quick to prepare. You need:
permanent black pen
tangerine
a few leaves of parsley
some imagination (or our image as a template)
After washing the tangerines thoroughly, you can now draw the creepy pumpkin faces on the dish. At the end, cover the parsley leaves and A kid-friendly Halloween snack is ready!
Crunchy witch fingers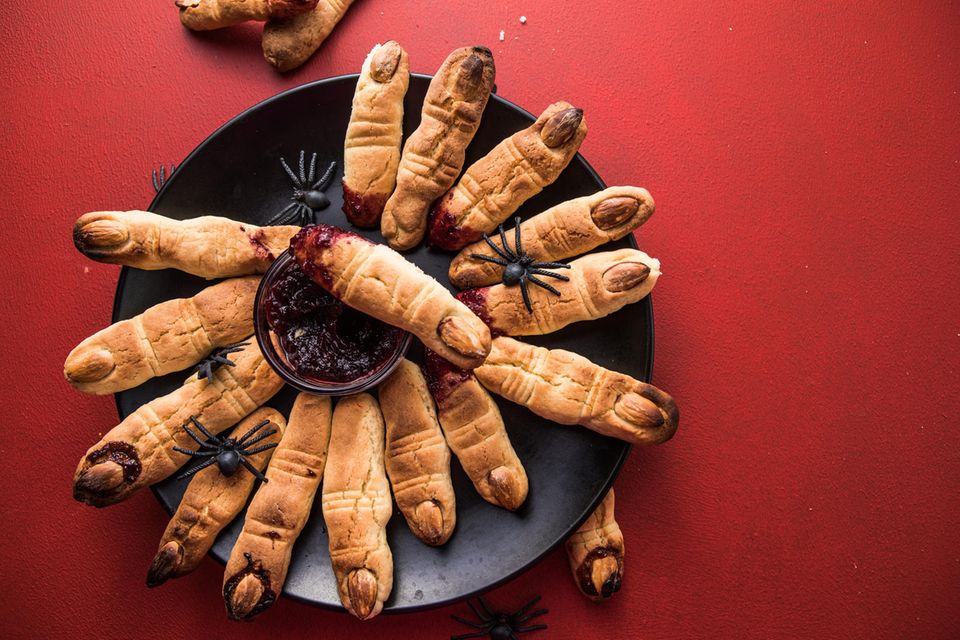 These delicious biscuit fingers are perfect for a little in-between snack. And they are easy to make too! For this you need 24 pieces:
175 g soft butter
100 g sugar
1 eggs (size M)
330 g flour
1 pinch Salt
3 tbsp Seedless raspberry jam
24 whole, peeled almonds
Witch fingers are placed on the plate like this:
Step 1:
First, mix the butter and sugar with a hand mixer. Then mix the egg. Then mix the flour with salt and knead the dough. Finally, wrap the dough in cling film and chill for about 30 minutes.
Step 2:
Line a baking tray with parchment paper and preheat the oven 180 degrees (convection: 160 degrees) before. Now form the pieces of rolled dough into thin, oblong rolls. To apply a little more pressure when turning, use your fingers in three places – front, back and center. This is how the witch's fingers appear bony.
Step 3:
Place the dough fingers on the baking sheet and use a knife to make three grooves in each of the wider areas. Now take a teaspoon and spread some raspberry jam on the tip of your finger. Now press the almonds like fingernails over the jam.
Step 4:
Bake the witch fingers in the preheated oven for about 15 minutes until golden brown. Finally, once cooled, you can spread raspberry jam on your fingers as a bloody decoration.
7. Fruity apple monsters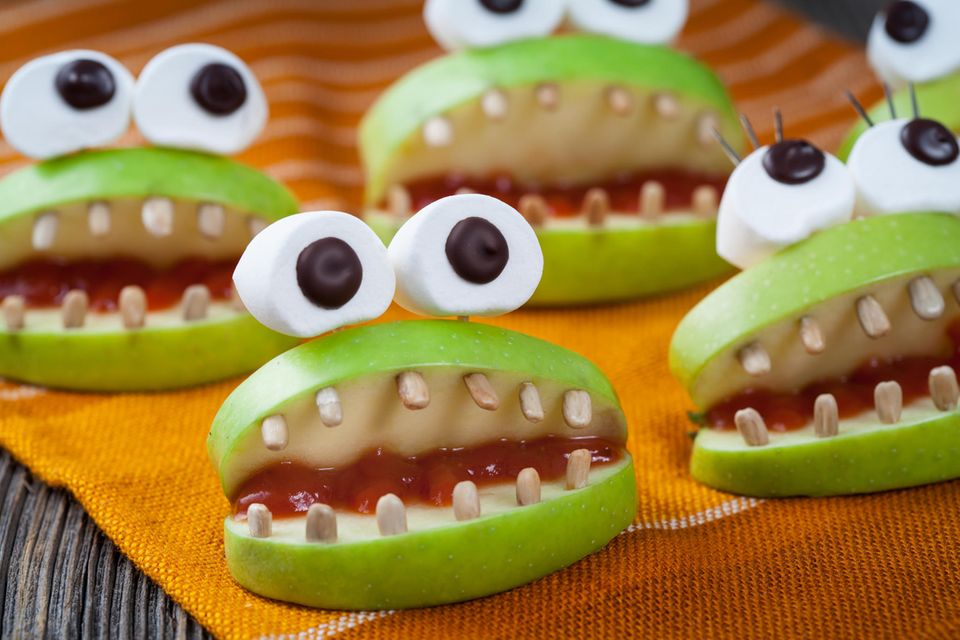 This dessert is popular among children and is quick to prepare Monster finger food. You need:
green apples (such as the Granny Smith variety)
sunflower seeds
red jam
small marshmallows
some dark couverture
toothpick
The snack at the buffet goes like this:
Step 1:
Wash the apples well and cut them into small slices.
Step 2:
Fill the apple slices with sunflower seeds: one row per column for wolf teeth.
Step 3:
Stick the marshmallows onto toothpicks and place a dollop of melted couverture in the center. Now put the toothpicks on an apple slice – the eyes are ready.
Step 4:
To finish, spread jam on the bottom apple slice and top with a slice decorated with marshmallow eyes.
Decorating tip: hollow pumpkin

Of course, it also includes the perfect decoration for your Halloween buffet a hollow pumpkin with a creepy face. Here you will learn how to carve a Halloween pumpkin step by step. And if more Inspiration for decoration For your Halloween party, we have put together seven great ideas for making Halloween decorations.
Of invitation cards above costumes and game ideas: Here you will find inspiration for your Halloween party with the kids.
PARENTS