Pumpkin Pie
Cook the original from the USA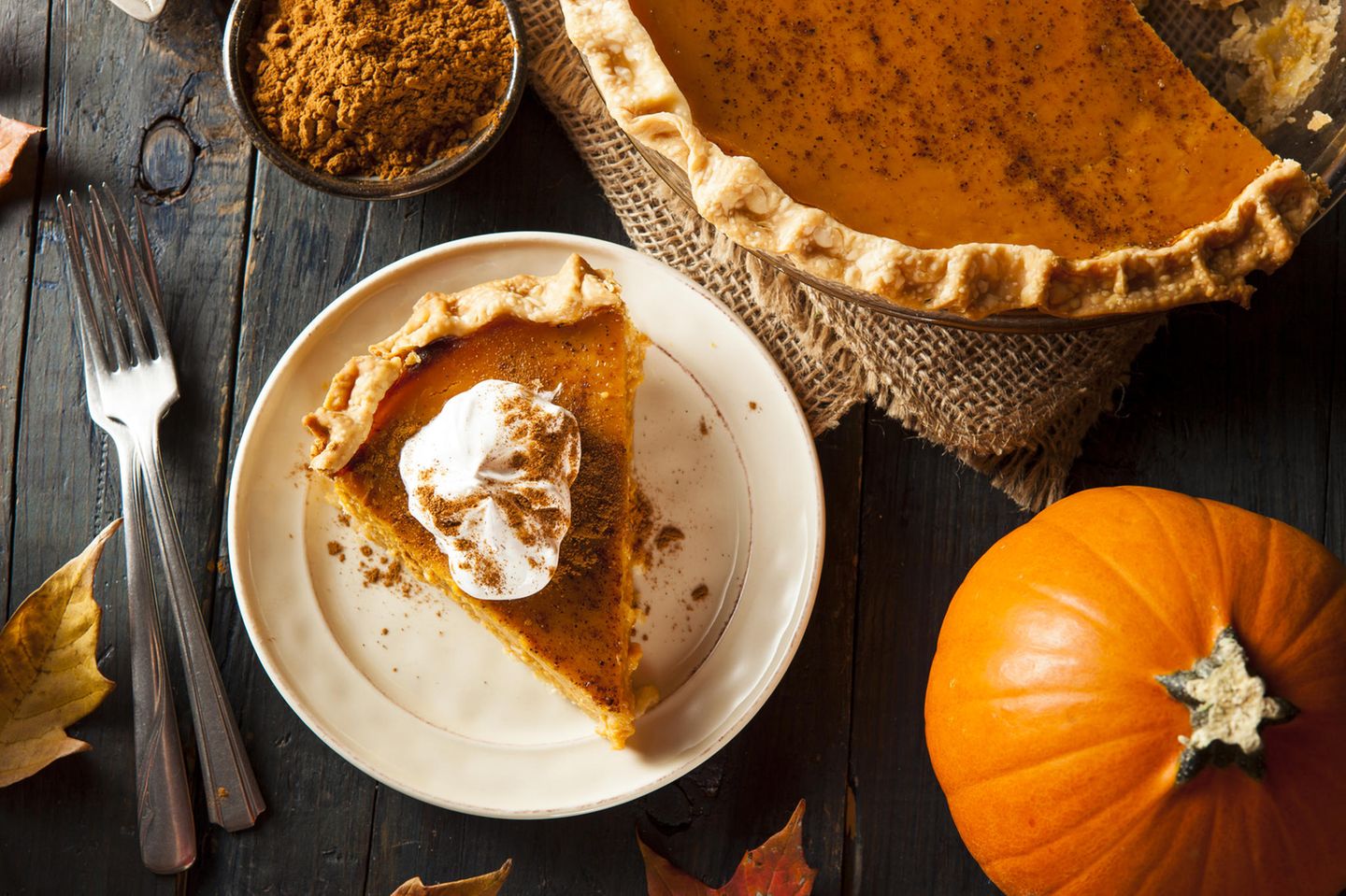 Pumpkin pie has a long tradition in the United States: whether it's Halloween or Thanksgiving, American pumpkin pie is a must. We have the best recipe for you.
Bake a classic pumpkin pie

Ingredients for a springform pan (26 cm):

For the dough (short dough):
300 grams of wheat flour
200 grams of margarine (chilled)
100 grams of sugar cane
1 egg yolk
2 tablespoons of lemon juice
1 teaspoon of baking powder
1 pinch of salt
Flour for dusting the work surface
For the pumpkin filling:
700 grams of pumpkin flesh (ideally Hokkaido pumpkin, alternatively ready-made pumpkin puree)
180 grams of sugar cane
1 package of cream cheese
3 eggs
1 tsp cinnamon powder
1 teaspoon of ginger powder
1 pinch of clove powder
In addition to:
Springform pan (26 cm)
butter for baking
optional powdered sugar, cocoa or coffee for dusting
Here's how to make pumpkin pie:

Place the flour, baking powder, cane sugar and salt in a mixing bowl and mix well.
Remove the cooled margarine from the refrigerator and add it to the crumble mixture. Add the egg yolks and lemon juice and mix everything well with the dough hook of a hand mixer to form a fine dough.
Knead the dough again with your hands to make a smooth dough.
Wrap the shortcrust pastry in cling film and refrigerate for about 30 minutes.
Meanwhile, prepare the filling: mix the pumpkin flesh or foam with spices, sugar, eggs and cream cheese and add salt. Put aside.
Heat the oven to 175 degrees.
After resting, knead the dough well again and then roll it out. Grease the spring form well, dust it with flour and then spread the dough. Simulate the high edge. Pierce the base several times with a fork.
Pour the pumpkin mixture over the dough and spread evenly. Then fold the edge of the dough a little to create a slightly wider edge.
Bake the cake in the oven for about 60-70 minutes, then let it cool briefly, remove it from the tin and finally let it cool completely.
Dust with powdered sugar, cocoa or coffee to taste.
Completed: about 3 hours (including 70 minutes of cooking time and about 40 minutes of resting time)
Tips for the perfect pumpkin pie

In America, it is common to buy canned pumpkin flesh (such as puree) and use it to make various fall recipes. More often in this country you can buy puree for ready-made pumpkin pie. However, Hokkaido pumpkin in particular is very easy to process and doesn't even need to be peeled before cooking and pureeing.
In addition to Hokkaido pumpkin, other types of pumpkin are possible for your cake. For example, pumpkin and nutmeg squash.
If you put the skin on the pumpkin, your pumpkin pie will have a stronger orange color. But as a rule, the color of the cake tends to be brown.
If you don't want to buy spices individually, you can also use a classic Christmas spice mix or experiment with different fall and Christmas spices. Make sure the pumpkin flavor doesn't fade too far into the background.
If you cover the edge of the dough with aluminum foil before baking, it will not burn as quickly. Remove the foil about 20 minutes before the end of the baking time so that the edges have a chance to cook until golden.
Serve the pumpkin pie with vanilla ice cream or fresh whipped cream, depending on your taste.
Here are more delicious pumpkin pie ideas. And here we have put together amazingly beautiful Halloween ideas for a Halloween party.