Healthy snacks satisfy those hunger pangs in between and are ideal for on-the-go. We'll show you some delicious alternatives to industrially prepared snacks from the supermarket.
Healthy snacks – the pleasure in between
For a little hunger or indulgence: Small and healthy snacks are popular and can be prepared often. without much effort Do it yourself. We inspire you to have a little energy boost between meals healthy and tasty there is
We recommend: Buy ingredients as regionally and seasonally as possible – this way you know where they come from and get the highest quality.
Crispy bread – crispy, hearty, delicious!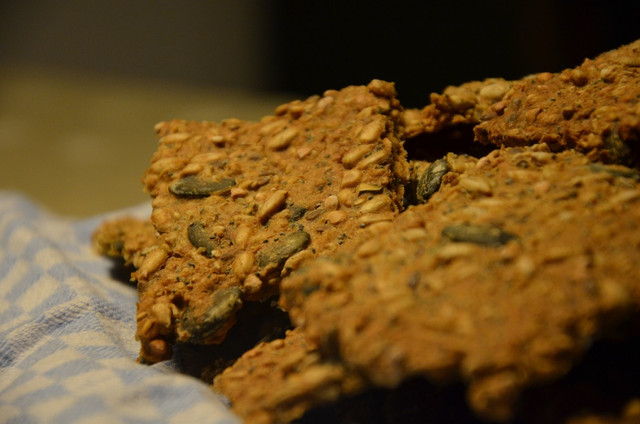 home made crusty bread It's healthy and the perfect in-between snack. Be it pure or one vegan spread – Crispy bread is delicious and can be combined in many ways. Kernels, nuts and seeds make this snack special rich in vital substances and plant proteins. You can flexibly adapt the basic crusty bread recipe: Depending on what you like and what your pantry has to offer.
Ingredients for crispy bread for snack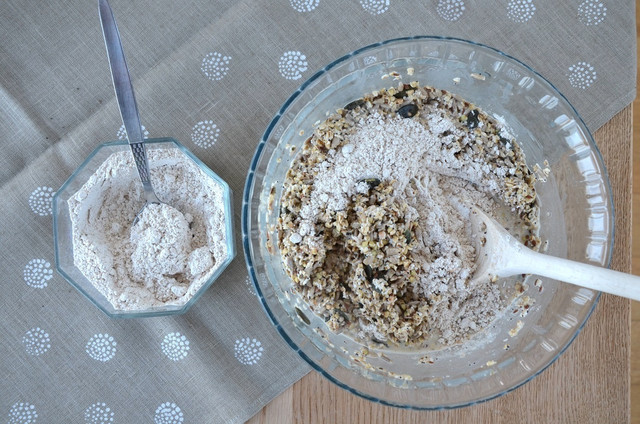 Ingredients for two bowls:
120g oatmeal
250 g of kernels, seeds and nuts (for example, 100 g of sunflower seeds, 50 g. sesame50 g of flax seeds and 50 g of chopped almonds)
1/2 teaspoon of salt
500 ml of water
120g flour (eg whole grains)
This is how you make crusty bread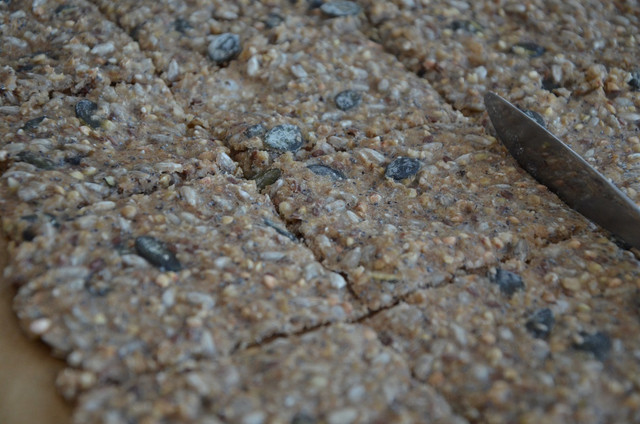 Preparation:
Mix the oats, kernels, seeds, nuts and salt well with the water.
Gradually mix the flour into the mixture.
Spread the dough very thinly on two baking sheets and place in a preheated oven at 170 °C.
After 10 minutes, remove the pans and cut the dough into pieces.
Bake for another 50-60 minutes until the crispbread is crisp and golden brown.
Leave the crispbread to cool.
Crispy bread will keep in an airtight container for at least a week.
Hint: Use a variety of flours, nuts, seeds and kernels to give your crispy bread a new twist every time individual taste!
And another tip: You have almost all the ingredients you need for crispy bread. homemade granola bars need. So you can make some healthy snacks from the ingredients you already bought.
Hearty breads with vegetables – a healthy snack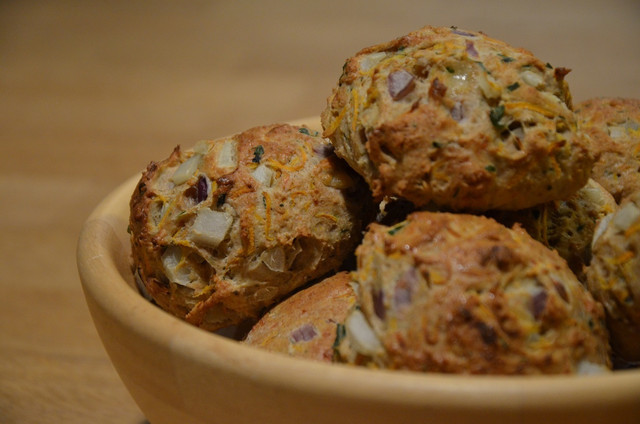 If crispbread is too crunchy for you, then we recommend trying a delicious version of the sweet bread that originated in England. They still taste best on warm veggie scones, with a little butter or a vegan spread.
You will need about ten loaves of bread:
250 g flour (e.g. whole wheat)
1 teaspoon baking powder
1 tablespoon softened butter or vegan margarine
1 egg
some of them milk or water
60 g of spicy cheese
1 onion
1 carrot
1 handful of parsley
salt and pepper
How to make the buns:
Mix flour with baking powder.
Crack the egg into a measuring cup, then fill to the 125ml mark with water or milk.
Grate the cheese and carrots very finely. Cut the onion into small cubes and chop the parsley.
Add the butter, egg mixture, cheese, onion, carrot and parsley to the flour and mix until well combined. Add salt and pepper to the dough.
Make about 10 small balls and place them on a baking sheet.
Bake the buns in the oven at 220°C for about 12-15 minutes. They should be golden brown. But be careful not to make them too dark and dry.
Hint: Breads will be extra healthy whole wheat flour use etc. B. add a handful of flax seeds to the batter. This makes the bread special filling, rich in fiber and nutrients. And try a few drops as a healthy refill high quality oil (eg linseed oil or pumpkin seed oil) on a still warm bun.
Fresh snack: cucumber with herbal quark filling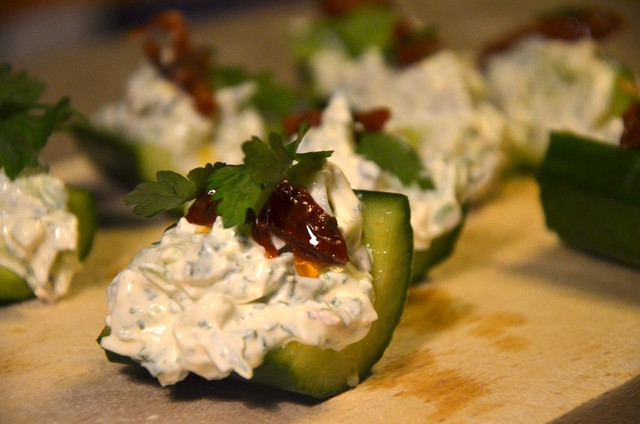 are vegetable sticks healthy, light and wonderfully fresh taste. Here we show you a slightly modified form with a cucumber.
For about ten pieces you need these ingredients:
2 cucumbers
250 g of edible quark
1 clove of garlic
1 onion
1 tablespoon of lemon juice
1 handful of herbs
2 tablespoons of dried tomatoes
salt and pepper
This is how you make a healthy snack:
Cut 1.5 cucumbers in half lengthwise and remove the seeds so that the cucumber halves are carved into a U shape. Cut the carved halves into pieces about two inches long.
Finely grate half of the cucumber, squeeze the juice well and set aside the grated cucumbers.
Finely chop the onion and garlic and cut the sun-dried tomatoes into small pieces.
Then chop the greens.
Mix quark with garlic, onion, lemon juice, herbs, tomatoes and grated cucumber.
Add salt and pepper and mix everything well.
Fill the carved cucumber pieces with quark and garnish with some herbs and a piece of sun-dried tomato.
Hint: Cucumber seeds go very well in a mixed leaf salad. Alternatively, you can express them and add them to the quark. You can also make quark mass from quark, sour cream, yogurt or Cream cheese production. This is how it works fat content from quark change. However, make sure the quark is not too runny.
Sweet snack: dates with peanut butter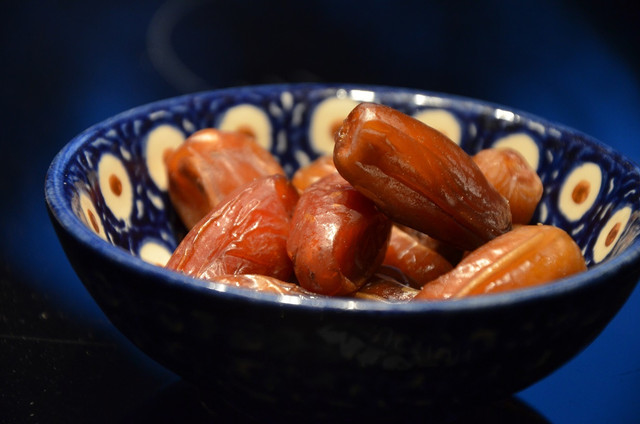 This sweet snack is a real powerhouse. Sweet combination History and strong peanuts lots of protein – also too much sugar. That's why you should only eat this snack enjoy in moderation. Dates are mainly imported from the Middle East and are therefore not a regional ingredient. You can get the best dates in organic quality at the health food store around the corner.
For these ten delicious date and peanut snacks, you'll need:
10 soft dates
peanut butter
Hollow out the date by cutting it lengthwise and then removing the stone.
Spread peanut butter on one half of the date and place the other half on top.
Hint: May be of similar substances balls of energy make them yourself, a great snack alternative to protein or energy bars available in the supermarket.
Read more at Utopia.de:
Please read our health notice.
Marked with ** ** or highlighted in orange Some links to supply sources are affiliate links: If you buy from here, you are actively supporting Utopia.de, as we receive a small portion of the sales revenue. More information.
Do you like this post?
Thank you for voting!