Being outdoors in the summer is a lot of fun. Spontaneous or planned mini-parties with friends on the balcony or in your own garden are part of the summer months for many. How can you sweeten the evening for your guests? Of course, with delicious food. Here are some of our favorite (delicious and uncomplicated) recipes for an unforgettable evening with your friends…
Quick finger food recipes for a summer party – and without the grill
Simple and delicious: a summer buffet should be delicious, freshly prepared and creative. Complex summer recipes require manageable effort and manageable ingredients. If you don't want to grill, you can still grab finger foods that fill you up and make you happy. We have put together the best snacks for a successful summer evening for true foodies.
Delicious snacks for a luxurious summer party in a small circle
Good preparation for the summer party guarantees comfortable holidays. Our mini burgers can be made the night before, as can hummus with an oriental touch. Place marinated feta and cantaloupe cubes on skewers before serving.
Recipe #1: Pizza buns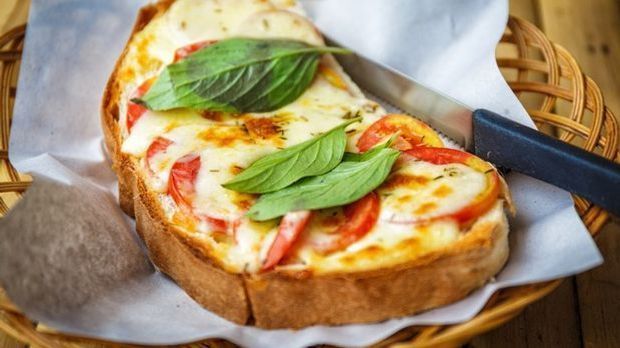 Affordable, tasty and quick to prepare: hearty rolls that open like a pizza. It is perfect as a finger food, because instead of a thin base, the rolls lie well in the hand and can be eaten comfortably.
For 6-8 people you will need:
2 loaves of baguette bread
2 cups of sour cream
2 bags of grated cheese
2 packs of cooked ham
1 onion
onions
salt and pepper
This is done like this:
Cut the baguette sticks into slices.
Chop ham and onion and mix with grated cheese, sour cream and onion.
Season with salt and pepper and spread over baguette slices.
Bake at 170 degrees for 20 minutes.
Cool slightly, then serve.
Here you will find other interesting articles:
Recipe #2: Mini Cheeseburgers
So fast, so good: Hearty cheeseburger brownies are a hit at every party. They are prepared in no time and taste simply delicious, especially after a busy day at work.
For 12 muffins you will need:
1 onion
3 tablespoons of oil
450 g of minced beef
1 tablespoon of tomato paste
100 g of spicy ketchup
1 tablespoon of mustard
salt and pepper
125 ml of water
30 grams of butter
250 grams of wheat flour
½ cube of yeast
1 pinch of sugar
salty cucumber
3 slices of cheese
onions
40 grams of sesame seeds
This is done like this:
Grease 12 muffin tins and sprinkle with sesame seeds.
Heat the water and melt the butter in it.
Chop the onion and fry it in a pan. Then add minced beef and fry.
Tomato paste, mustard, spicy ketchup and 3 tsp. mix with pickle juice.
Sift the yeast into the flour, add water and mix with a hand mixer.
Cover the dough and let it rest.
When the size of the dough increases, knead it again and divide it into twelve parts. Then roll them up and place them in muffin tins.
Spread the minced meat mixture inside.
Bake at 200 degrees for 15 minutes.
Cut the cheese slices into quarters and spread over the muffins. Return to the oven for a few minutes until the cheese melts.
Garnish with gherkins and onions.
Recipe #3: Mild Chili with Feta Melon Cubes
Add color to the buffet: watermelon is delicious and very refreshing, especially in summer. Melon cubes get a hearty twist with marinated feta and green chile.
You need 2 servings:
60 g feta
3 slices of watermelon
10 mint leaves
3 tablespoons of olive oil
1 pinch of sea salt flakes
1 pinch of pepper
Organic lime flavor
toothpick
This is done like this:
Mix the marinade of olive oil, sea salt flakes, pepper and lime zest.
Cut the feta into cubes and brush with the marinade.
Cut the watermelon into slices about 2 cm thick.
Cut out hearts with a cookie cutter.
Now twist the feta, melon and mint onto the toothpick.
Recipe #4: Burger Skewers
A hit at every party: skewered burgers with tomato, cucumber, lettuce, cheddar and meatballs are delicious and quick to prepare.
You need 2 servings:
Composition of the burger:
1 onion
1 clove of garlic
400 g of minced beef
1 teaspoon Worcestershire sauce
Salt
pepper
Additional ingredients:
5 slices of cheddar
20 cocktail tomatoes
cucumber slices
lettuce leaves
tumors
This is done like this:
Preheat the oven to 200 degrees Celsius.
Finely chop the onion and garlic.
Mix ground beef with onion, garlic, Worcestershire sauce, salt and pepper. Make about 20 small balls from the mixture.
Cut the cheddar cheese slices into quarters. Cut the lettuce leaves into bite-sized pieces.
Put the meatballs on a baking tray covered with baking paper, flatten them a little and bake for 15 minutes. Then immediately top with cheddar.
Thread everything onto the skewers as follows: meatballs, cheddar, cucumber slices, lettuce, cucumber slices, tomatoes
Recipe #5: Hummus meets Mohammed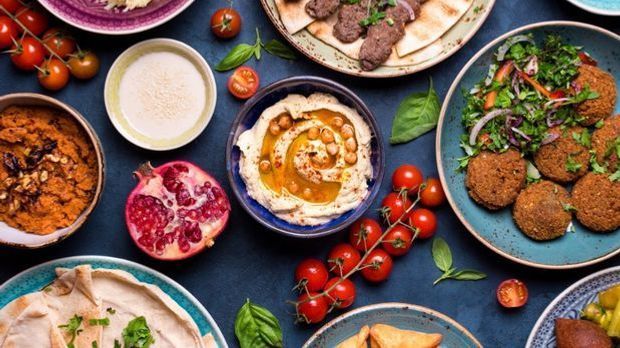 Goes well with warm bread or crunchy crackers: hummus made from chickpeas is combined with a warm Muhammara spice paste made from paprika and walnuts.
You will need about 4 servings:
ingredients for Muhammad:
1 large red pepper / bell pepper
2 green onions
1 small garlic (about 5-7 cloves)
Olive oil for frying
Ingredients for hummus:
1 can chickpeas, drained
40 g of toasted walnuts
60 ml Arabic style tahini
2 tablespoons pomegranate molasses (or date syrup + a little dark balsamic vinegar)
1-2 teaspoons ras el hanout (or just cumin and a pinch of cinnamon)
1 teaspoon smoked paprika powder
Juice of 1/2 lemon
3 tablespoons of ice water
This is done like this:
Ingredients for Mohammed iFry in a casserole dish for about 30 minutes at 180 degrees. Leave to cool briefly.
Place all ingredients in a blender and slowly blend in ice water.
Place in a bowl and garnish with olive oil, pomegranate molasses, chopped parsley, nuts and chili flakes.
Serve with bread, crackers or vegetables.
Recipe #6: Pumpkin rolls stuffed with goat cheese, roasted peppers, mint and rocket
Oriental style rolls filled with goat cheese, roasted peppers, crispy rocket and aromatic mint. All put together, it makes a delicious little bite that goes great with the comfort of a summer party.
For 6-8 rolls you will need:
1 red pepper
1 pumpkin
1 small pepper (depending on how spicy you like it)
1 handful of mint + some leaves for garnish
1 handful of arugula + some leaves for garnish
125 g of fresh goat cheese
Salt and pepper
This is done like this:
Preheat the oven to grill mode.
Wash the peppers, cut them in half, remove the core and roast them in the upper third of the oven until the skin darkens and blisters. Remove the peppers from the oven and place them in a sealed plastic bag to cool so the skins are easier to remove later. Then peel and finely chop.
Meanwhile, using a vegetable peeler, cut the zucchini into wide strips. Heat some oil in a (grill) pan and fry the zucchini strips on both sides. Drain on a kitchen towel.
Finely chop the pepper, wash and also chop the mint and rocket. Mix everything in a bowl with goat cheese and paprika and season with salt and pepper.
Spread some goat cheese cream on each zucchini strip and place some mint or rocket leaves, then carefully roll everything up.