"Shepherd's Pie"
Kids love this dish (and it's vegetarian too)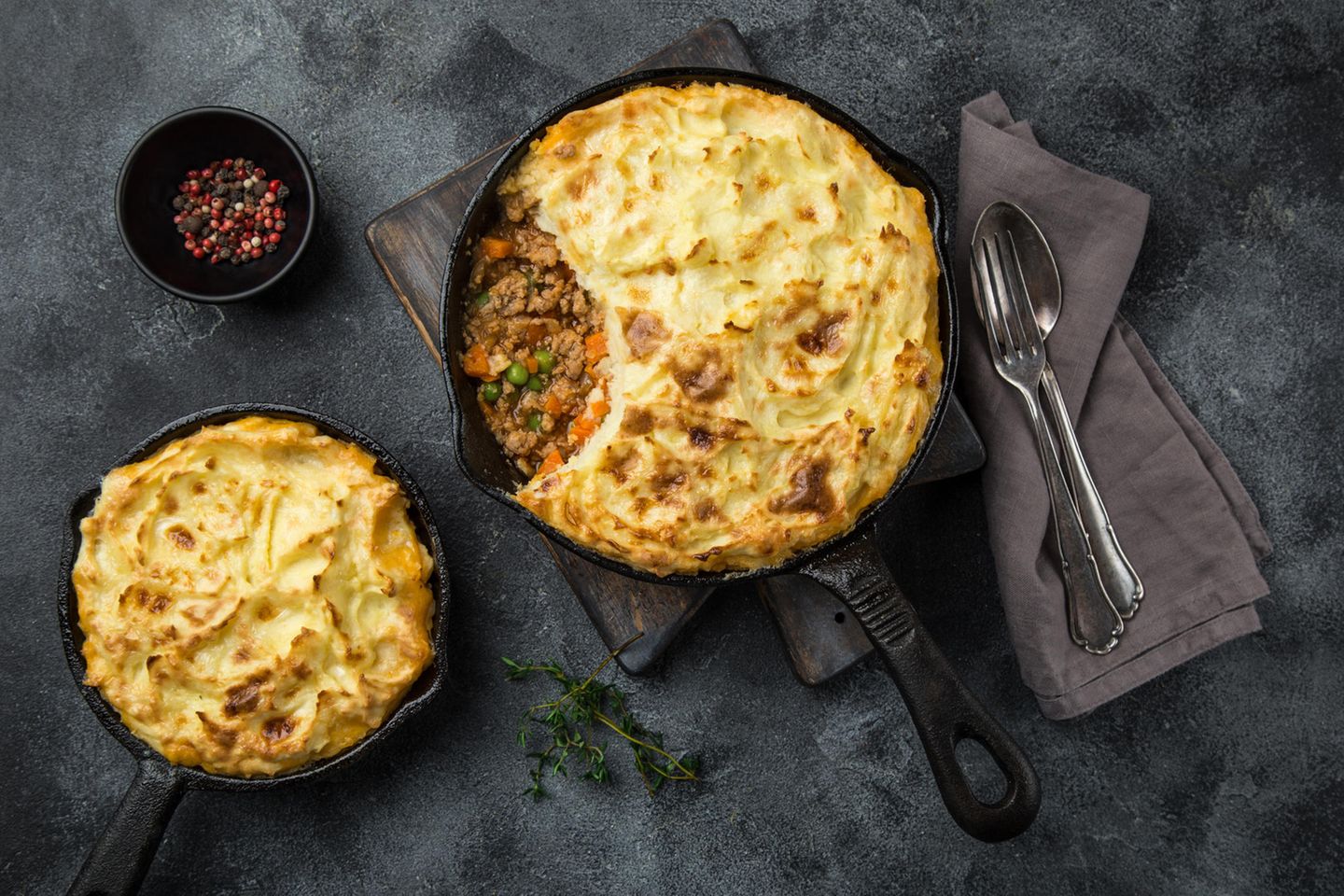 Have you already tried it? "Shepherd cake" is an ideal food for young and old. It's not complicated, it's quick to prepare and almost every child likes it.
"Fish fingers with mashed potatoes again?" Many parents want to add variety to their children's plates on a regular basis – it's not that easy! After all, many small gourmets are a little picky. Our offer: The current trend dish "Shepherd Pie". It's a word: mince and potatoes recipe will be enjoyed by the whole family, so we recommend: Better to do too much than too little, because we adults like it too, and it's not just a food trend for kids.
"Shepherd's Pie" is as popular with children in the UK and Ireland as Spaghetti Bolognese is in Germany!

The English stew dish Shepherd's Pie is also known as Cottage Pie in Ireland and is becoming increasingly popular here. The combination of minced meat, vegetables and mashed potatoes provides variety, especially in children's plates. But there is one major difference between shepherd's pie and cottage pie – the Irish version is traditionally made with mince, and shepherd's pie is usually made with lamb. But vegetable lovers can also prepare the dish. Now there are many vegetarian recipe options. And it's not difficult at all: just replace the meat with beans, lentils or meat alternatives. And you go…
Shepherd's Pie Recipe: Ingredients for about 6 servings

1 onion
1-2 cloves of garlic
500 g of minced lamb or beef
1 kg of potatoes (flour meal)
200 ml of milk
350 ml of chicken stock
1 carrot
1 stick of celery
1 sprig of thyme or mint
100 g of frozen peas
1 tablespoon of tomato paste
2 tablespoons of flour
salt, pepper, nutmeg
2 tablespoons of butter
a little olive oil
30g parmesan or cheddar cheese (grated)
Making Shepherd's Pie: It's Easy!

Preheat the oven to 200 °C up and down.
Peel the potatoes and cook in salted water until soft. Drain, add milk, a little salt, pepper and nutmeg and mash or mash the potatoes until they are fine.
Peel the onion and garlic, cut into small cubes and fry in a large pan with a little olive oil.
Wash and chop carrots, celery, thyme or mint.
Place the lamb or mince in a pan with a little olive oil and sauté until crisp, about 3 minutes. Add the celery, carrots and peas and sauté for about 5 minutes. Add salt and pepper.
Add tomato paste and thyme or mint and saute for 2 minutes. Then add the flour and heat for another 2 minutes, stirring constantly.
Clean everything with chicken broth and cook on medium heat for about 10 minutes.
Pour the meat sauce into one large or several small casserole dishes, sprinkle with a little grated cheese and top with mashed potatoes. Finally, pour some butter and the rest of the cheese over the porridge and bake in a preheated oven at 200 °C for about 20 minutes. (The mashed potatoes should be slightly crispy and golden brown.)
PARENTS